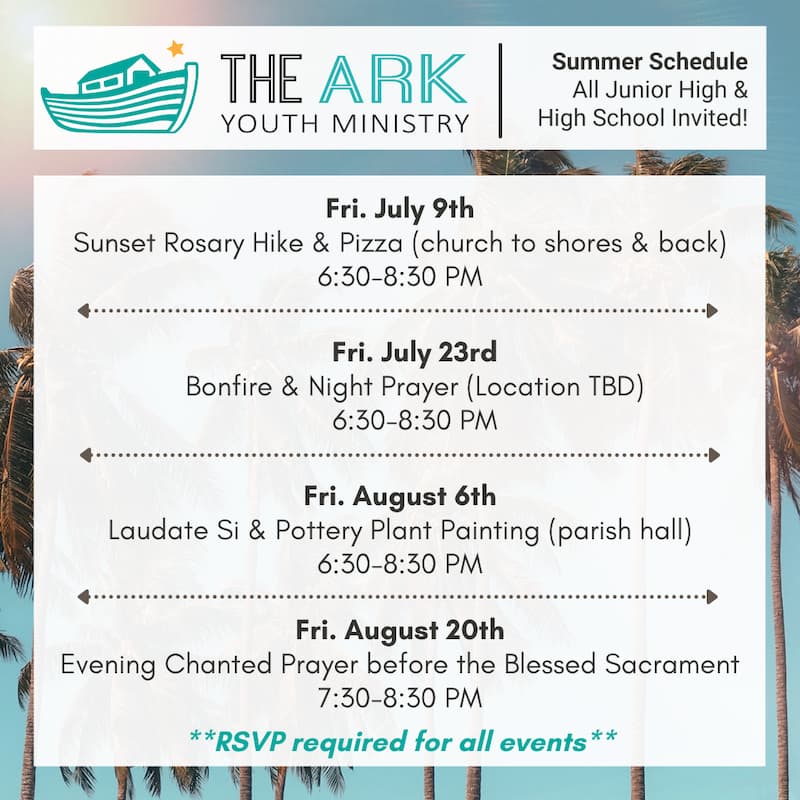 Youth who are between the ages of 13-15 years old are invited to join us on the journey towards the Sacrament of Confirmation. The journey is two years long and is headed by our Youth Minister, Lupe Rios. Confirmation Candidates will also join and participate with other youth from our parish in The ARK Youth Ministry at Mary, Star of the Sea.
Sign up now until September 20th, 2021. See Below for Forms.
Parents will receive an email invitation to review the process via an internet presentation accessible from your own home. We will use the "CHOSEN" program from Ascension Press.
Once parents have reviewed the program information, we can then add the candidate via email to the course, and the calendar years proceeds as usual with at home participation until further notice. 
Middle School and High School youth group will follow a similar set up.
Forms to Bring on Orientation Day: (Forms Below)
Registration Form
Baptism and First Communion Certificates
Photo Release Form
Payment (check or cash)
Important Dates:
Registration begins August 2021 and ends September 20th 2021 
Orientation is Sept. 23rd at 6:30 PM (Confirmation 1) and at 7:50 PM (Confirmation 2)
First Youth Ministry Kick-Off Meeting Sept. 25th at 6:30 PM outdoors
Classes begin October 2020. (Oct. 7th for Year 1 and Oct. 14th for Year 2)
Confirmation Meetings will be held on Wednesdays 6:30 PM – 8:30 PM
General Youth Ministry Meetings are the last Friday's of each month from 6:30 PM – 8:30  PM. All Middle School and High School youth are invited to these nights.
Contact Information
Youth Minister, Lupe Rios lupedifranco@gmail.com
March-May 2021 Calendar
Community Service Form
Sponsor Information Form, Padrino/Madrina
Confirmation Day Dress Code
2021 Parent Letter RE: Final Confirmation Prep
2021 Confirmation Diocesan Schedule
Teaching Children to Pray: For Parents
How to Pray: For Kids
Prayer Bookmarks / Reminders
Second Year Parent Orientation Outline
Confirmation General Info/Requirements
New Candidate Registration Form
Middle School Registration Form
Photo Release Form
Candidate Commitment Form
Parent Volunteer Interest Form
Volunteer Driver Information