All Masses Held Outside at the Stella Maris Academy Senior School Yard Starting July 18th
Daily Mass
Monday – Friday at 8:00 AM
Saturday at 9:00 AM
Saturday – (Sunday Vigil)
5:00 PM (English)
6:30 PM (Spanish)
Sunday
7:30 AM, 9:00 AM, 10:30 AM
(12 PM, 5 PM will resume at later date)
Sacrament of Reconciliation:
By appointment only
Bishop has extended the dispensation
to not attend Mass indefinitely.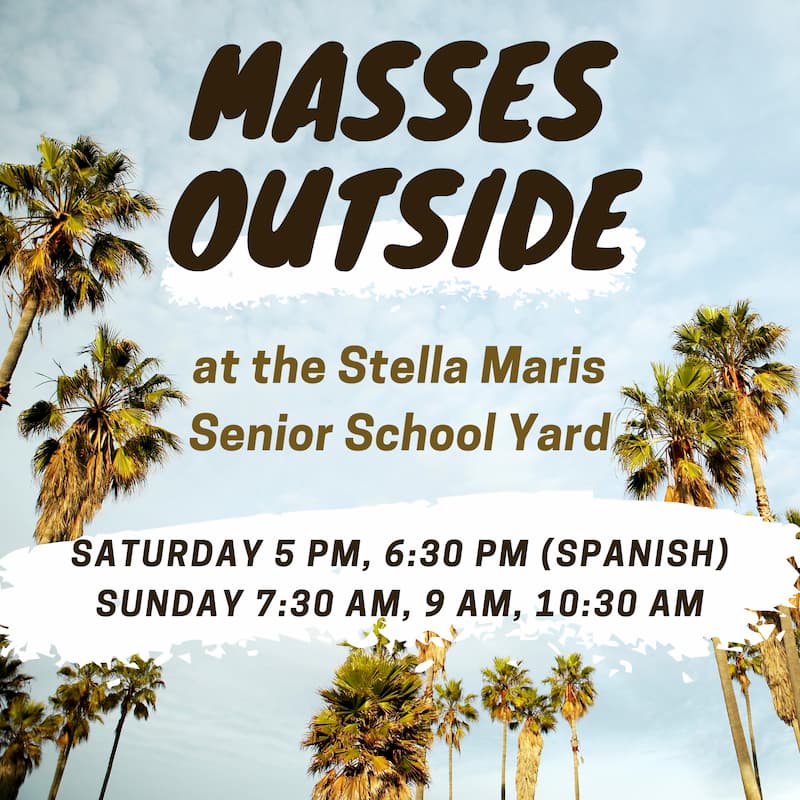 A MESSAGE FROM FR. PAT REGARDING NEW PROTOCOLS
New Protocols: 1. wear a mask 2. use hand sanitizer as you enter the Church 3. maintain social distancing in the Church 4. maximum capacity is 100 persons at any given liturgy  5. Communion will be by the hand only, not on the tongue 6. use hand sanitizer right before receiving Communion 7. social distancing during Communion procession 8. in between Masses, the Church will be cleaned
BISHOP MCELROY ON REOPENING THE CHURCH
SUPPORT OUR DOMINICAN SISTERS IN PUERTO RICO
*Click each prayer to make larger*
Letter From the Bishop of San Diego Regarding COVID-19
1. Effective Monday morning March 16th, no public daily or weekend Masses will be held. Our parish will be open for personal visitation, intermittent recitation of the Rosary, and Exposition of the Blessed Sacrament.
2. All Catholics in the Diocese of San Diego are dispensed from the obligation to attend Sunday Mass during the coming weeks.
3. All parish and diocesan schools and religious education programs will be suspended effective Monday morning March 16th.
4. Sunday Masses celebrated by priests and bishops of our diocese in English, Spanish, and Vietnamese will be VIDEO STREAMED every week. You can access these at www.sdcatholic.org
Diocese of SAn Diego
2020 Annual cAtholic Appeal
Participation in our Annual Catholic Appeal accomplishes something very simple yet very powerful: it touches people's hearts with God's love through your gift and deepens our collective faith together. By demonstrating our Gratitude in Action, you are helping our brothers and sisters to truly know and love Jesus Christ, His grace and His mercy. Don't delay, make a pledge today! 
There are many ways to respond to the Annual Catholic Appeal: a monthly or quarterly pledge; a one-time cash gift;  a credit card or electronic funds transfer; visit giving.sdcatholic.org ; a gift of stocks or bonds or IRA Charitable Rollover Distribution. Note that the Annual Catholic Appeal qualifies for many company matching gift programs.
Stay up to date by reading our Pastor's weekly letter to the Parish.

More »

Truth shall spring out of the earth, and justice shall look down from heaven. — Psalm 85:12

More »

Check out our weekly newsletter by our Pastor for important information and updates!

More »